Séminaire de Fausto Grassa, INGV Palermo (Italy) – ANNULÉ
10 March à 14 h 00 min

-

17 h 00 min
THE INGV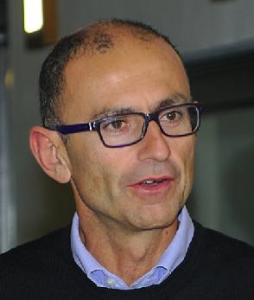 –SEZIONE DI PALERMO: RESEARCH TOPICS AND INSTITUTIONAL TASKS; GEOCHEMICAL ANALYTICAL CAPABILITIES; ONGOING AND FUTURE PROJECTS
The Istituto Nazionale di Geofisica e Vulcanologia (INGV, http://www.ingv.it/it/) is a Public Research Institution, in close contact with the Italian Ministry of Education, Universities and Research (MIUR) and with the Department of Civil Protection. It has been created in 2001 with the aim to collect, in a sole pole, the principle scientific national realities in geophysics and volcanology fields, by bringing together research infrastructures already operating in these areas.
The INGV is in charge of organizing the seismic and volcanic surveillance through the installation and the management of multidisciplinary monitoring networks, technologically advanced, in order to monitor the entire national territory and the Mediterranean basin. The INGV section in Palermo (INGV-Pa, https://www.pa.ingv.it/?lang=en), one of the seven main sections of the INGV, was born from the acquisition of an already existing scientific infrastructure: the Institute of Fluid Geochemistry (I.G.F.) of the Italian National Research Council (C.N.R.). Our staff includes more than 80 people among researchers, technicians and management/administrative personnel.
The INGV-Pa deals with the geochemical monitoring of active volcanoes in Italy and through the participation in research projects and collaborating with Italian and foreign institutions it carries out:
-comparative studies with other active volcanic systems worldwide;
-studies on possible relationships between fluids and seismogenetic processes;
-environmental studies in the atmosphere and in marine science;
Analytical facilities include geochemical laboratories that primary support research projects and monitoring activities. They involve a large number of instruments devoted to the determination of the elemental composition and isotopes ratios in fluids and rocks/minerals (ICs, GCs, ICP-MS, ICPOES, LA-ICP-MS, IRMS, Noble-Gas mass spectrometry). INGV-Pa technology laboratories focus on the design, test and development of innovative solutions for geochemical monitoring networks. Researchers are involved as WP and task leaders as well as participants in many research projects either national or international (EPOS, Envri+, EUROVOLC, ICEVOLC, DECADE-DCO, LAKECARB) aimed at the study of volcanoes, cycle of elements through geological reservoirs, Earth degassing processes, role of the fluids as possible precursors of seismic activity and impact of natural gas emissions on atmosphere and human health.