Please visit this page again (continuously updated) for practical information on price, abstract format, schedule and so on !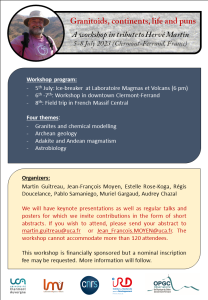 We are pleased to invite you to participate to a workshop held in Clermont-Ferrand from the 5th to the 8th of July 2023 (this is the week just before the Goldschmidt Conference in Lyon), celebrating the life and career of the late prof. Hervé Martin.
This workshop will include scientific presentations on themes that Hervé worked on, as well as moments of conviviality and remembrance and a one day field trip.
Registration is now closed
Four themes
Granites and chemical modelling (

Chair

: Martin Guitreau, UCA;

Keynote

: Jean-François Moyen, UCA)
Archean geology (

Chair

: Emilie Bruand, Brest;

Keynote

: Nick Arndt, Grenoble)
Adakites and Andean magmatism (

Chair

: Olgeir Sigmarsson;

Keynote

: Silvana Hidalgo, Instituto Geofísico – Escuela Politécnica Nacional Ecuador )
Astrobiology (

Chair

: Muriel Gargaud, Bordeaux; Keynote: Francis Albarède, Lyon)
The organizers (in alphabetical order): Audrey Chazal, Régis Doucelance, Muriel Gargaud, Martin Guitreau, Jean-François Moyen, Estelle Rose-Koga, Pablo Samaniego.
Contact and info: Martin Guitreau, Jean-François Moyen.
Workshop program:
5th July:

5 pm: Visit of LMV facilities: experimental petrology lab and geochemistry lab.
6 pm: Ice-breaker at Laboratoire Magmas et Volcans. Breton music/dances. Bring your instrument!

 6th July: Workshop in downtown Clermont-Ferrand (At IAE main lecture hall)

9.00 – 12.30 and 14.00 – 17.30 : scientific presentations
Evening: diner at Puy de Dôme restaurant. Depart 17.45 from Clermont by bus (Gare Routière). Return 23.00 (leave the summit of Puy de Dôme at 22.00).

7th July: Workshop in downtown Clermont-Ferrand (At IAE main lecture hall)

9.00 – 12.30 and 14.00 – 17.30 : scientific presentations

8th July: Field trip in French Massif Central (granites of the Forez mountains and cogenetic rhyolites – B. Barbarin & O. Laurent). Depart 8.30 from Clermont Gare Routière, return 19.00. Possibility to leave participants willing to go to Lyon in Roanne.
We are in the happy position to have sufficient financial support, and do not need to charge anything to the participants. Of course, you should still cover your own travel and accomodation.
The (provisional) scientific program can be found here: Workshop Hervé Martin programme (v5)
The abstract volume is there: Workshop Hervé Martin Abstract volume
Registration and abstracts:
Registration is now closed. If you haven't registered and really want to attend, be in touch with the organizers and we'll see what we can do…
Getting to Clermont:
By plane: Clermont-Ferrand Aulnat (CFE) is connected to Paris (CDG) by three daily flights.
By train: Paris (Bercy) to Clermont-Ferrand is a direct route, about 3h30, 4-6 daily. From Lyon, direct, 2h30, 6-8 trains daily.
Driving: Lyon to Clermont, 2 hr, 170 km (motorway, toll). Paris to Clermont, 5h, 425 km (motorway, toll).
Accomodation in Clermont:
Clermont-Ferrand s a large city with a choice of hotels. Most of the workshop-related activities will happen in downtown Clermont (close to Place de Jaude, the main hub of activity in town). We compiled a list of centrally located hotels (Les Hotels à Clermont-Fd) – for French colleagues, they are essentially the same that you can find in CNRS travel site (Goelett). Of course, there are many more, as well as airBNB, and even camping sites or holiday accomodation nearby if you have a car (there is a camping site in Ceyrat that can conceivably be reached by public transport, bus line 4).
Only the icebreaker on Wednesday evening will be held in the building of LMV, on the "Campus des Cézeaux" (Science site of Université Clermont-Auvergne). From Clermont center, teh LMV is easly reached using tram line A (stop "Cézeaux Pellez"). The tram runs until past midnight, although at a reduced frequency after 9 pm. Alternately, it is a 45 mn walk to downtown. Clermont also has a bike sharing service
Going from Clermont to Lyon:
If you are attending the Goldschmidt conference starting in Lyon on the Sunday 9th (or earlier if you participate to a workshop), there are several convenient options:
Driving — 2 hours but not recommanded, trafic/parking in Lyon can be quite bad.
By train, depending when you need to be in Lyon (e.g. if attending a workshop)

On the Sunday, at your leisure. 6 direct trains from 7h04 to 19h50, about 2h30. 14h03 or maybe 15h02 (arr. Lyon 16h26 and 17h26, resp.) would bring you in Lyon comfortably in time for the Goldschmidt icebreaker.
On the Saturday evening after the field trip:

From Clermont, you would need to leave at 17h00 (at the latest) to be at 19h26 in Lyon, probably skipping the field trip
The field trip bus will make a stop in Roanne, with trains to Lyon at 18h21 and 18h50 (a bit more than 1 hour to Lyon).

On the Friday evening, last trains at 18h02 and 19h20 (2h30).